Custom Hat Embroidery Digitizing
Custom Hat Embroidery Digitizing helps for Hats to serve as a multi-purpose functioning accessory. You wear them outdoors to protect from sun, dust or air. You can wear them for fashion to boost up your outfit or even as a promotional item. Many even wear caps and hats to cheer their favorite team in a sports event.
They not only make our appearance stylish, however additionally save our hair from dirt and UV rays. Hats and caps are thought to be a successful marketing medium for a logo however its embroidery can drive anyone crazy. Custom Hat Embroidery digitizing is an extremely difficult task, even the manufacturing system is very hectic. However, a skilled embroidery digitizer or embroiderer is aware of the way to deal with the difficulties.
Now, the question is how we can get embroidery digitizing made on hats and caps. It is quite a complex process with many details and intricacies. If the order is not given to a skilled embroidery digitizer, often the end-product is not up to the mark of customer. In this article, let's go over a few problems that anybody can face while designing their product and how we can solve them.
Types of caps and hats:
There is a variety of caps and hats present in the market but what we're going to discuss about are:
Snapback caps
Visor caps
Bucket hats
Toques
Snapback caps:
They're mostly made of plastic and adjusted by snapping the buttons at the back so they're adjustable according to the head size. They're mostly worn at sports events or as a promotional item. So mostly people get their logos or designs embroidered at the front.
Snapback Caps Problem:
Although these types of caps are largely popular and have adequate amount of space to work on the front, the big problem is the wide bill present on the front of snapback caps. They become a hurdle for anyone trying to work on them.
Solution:
There is no absolute solution to it other than making sure your digitizers are working very carefully on it. Have the trimmers keep the wide bills straight so they don't come in their way. You just need to be precise about your instructions and have a clear picture in mind. Keep checking your order.
Visor Caps
They are mostly like snapback caps other than the fact it is open at the top. It is mostly worn by tennis players and it is less warm than the full head covering. Appears smart in appearance kind of like a headband.
Visor Caps Problem:
The obvious problem related to this type of cap is the small amount of space provided to work on. Designs that are horizontal can still be made on this with little interruption from the wide bill attached to, but vertical design demands can not be entertained. Companies with vertical logos are rejected and asked to be made on different types of caps to avoid any kind of defects.
Solution:
Being careful and precise is the solution to it. The design should be handled by a skilled professional embroidery digitizer because there are many possibilities of errors.  When working on the design, keep the height and width of the front space in mind. That is the only best space to utilize in order to embroider your design. All these factors should be kept in consideration before working on a visor cap as there are high risks of messing up.
Bucket hats: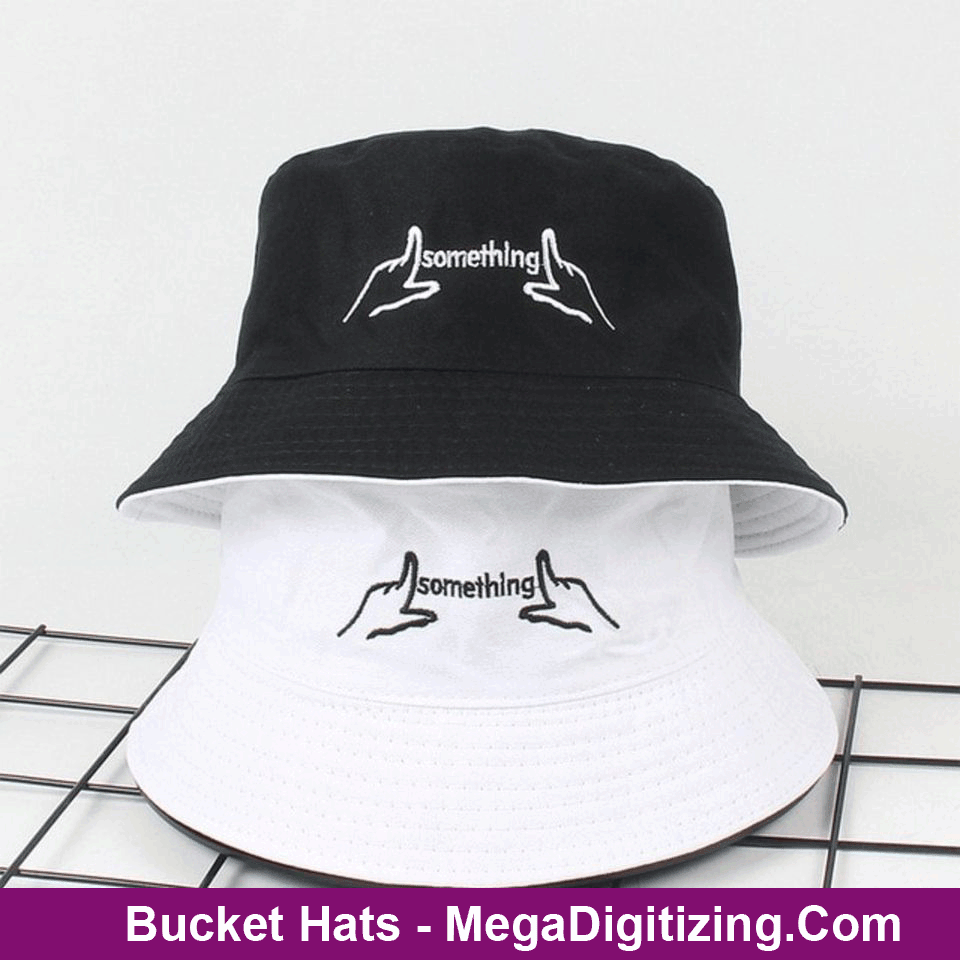 Bucket hats are slightly taller caps with brims slightly bowed down. These were highly popular in 80's and still many customers demand various eyelets fashioned into it.
Bucket Hats Problem:
Trying to do embroidery digitizing on bucket hats is an extremely difficult process since it requires a lot of different pieces to merge to make it. Caps with big cap brims have more chances of getting oil-stains on them. If eyelets, airholes or snaps demanded in the design, it becomes even more difficult to embroider. The hat construction may vary with size and fabric which may be as thick as denim so the logos dimensions must be chosen carefully. Also, space can be an issue because of the fabric bands that goes around the cap.
Solution:
Most of the problems with bucket caps are inevitable. The only solution to them is to keep in mind these problems will arrive while working on it. So you should always let your staff know about it. Have your machines thoroughly cleaned after oiling in order to refrain from staining. Also choose your monogram dimensions according to the design of the bucket hat demanded. Lastly, stick to making embroidery on the front or back in the traditional manner. That should do the job.
Toques Beanie:
A toque is a knit cap crafted from wool. It is a head-hugging cap produced from panels and additionally referred to as the beanie or skully. Throughout history it has been referred to as the seaman's hat, however these days it's far usually utilized in extremely cold areas to cowl the pinnacle and hold it warm. Now it has also come to be part of head wear style and extensively utilized by advertisers via means of putting a brand or layout at the front.
Toques Beanie Problem:
Toques have lesser problems than other type of caps because of the absence of bills or peaks. But usually the fabric may stretch or pull a lot and the designs of embroidery may also gradually appear lighter.
Solution:
The solution to it is using an underlay beneath the area which needs to be embroidered. This will enable the embroidery digitizer to handle the design easily. Also keep in mind the stretches that can occur due to the fact it is a knitted cap.
Read more on Tips for Custom Hat Embroidery Digitizing
What Our services can do for you:
Custom hat digitizing is our main area of expertise. If you get tired of all the hassles and want to stay free of tensions why not order it easily for the cheapest digitising rates. We guarantee customer satisfaction and provide timely delivery. We also ensure the quality never gets hindered during the process of Custom Hat Embroidery Digitizing so do give us a try!
CLICK HERE TO REGISTER WITH US