How to Embroider: Where to Begin
With adequate amount of hard work, dedication and the right talent, humans can conquer any skill. But to learn any new technique, the hardest part is actually knowing where to start. In this article we will try our best to teach you some embroidery tips and tricks on how to embroider. By the end of article , once you get the hang of it, you will find it very easy and fun to do it on your own. Embroidery can be very interesting and a great source of relieving stress. All that is required is patience and consistency. So, Let's dive straight into this ocean of knowledge shall we?
To make it easier for you to understand, this article will be broken down into several quick and very essential embroidery tips which will allow you to know your starting point. They are as follows:
To start: We need Fabric
We require Raw materials first to start off with our project. You can basically select any kind of fabric as long as it is easy to handle and not too thin or thick. It's not necessary that you select a plain fabric, you can also try your hands on floral or geometric pattern of your favorite handkerchief , shirt or any other fabric you would want your embroidery to go on. Also try experimenting different types of fabrics such as silk, cotton, linen etc. to know on which your hand is most steady.
Next Stop: We choose floss
You can start off with a DMC stranded cotton floss. The best thing about embroidery is the range of colors to choose from. You can play with colors as much as you want to. It's hard to create a mess when you're handling stranded cotton floss. It provides finishing to your stitches and also develops texture to your design.
A great embroidery tip we can provide you is how to conquer a pull skein without having to tear apart the information tabs. You just need to keep your eye beyond the longer tab of skein, find the end of floss and pull!
All about needles and Scissors:
This is another most important embroidery tips to handle needle and scissors. It is no rocket science to understand that the thicker the fabric you choose to embroider, the larger the threading eye and sharp needle you will need to pass through the fabric.  Whereas fabrics like cotton, silk requires the normal sewing needle.
Scissors are one of the most essential part of sewing. One should invest in a good model of scissors that ensures durability and quality in the long run. Features that you should look for is a sharp blade so that you won't have to struggle with the fabric and cut it easily. Also, a padded handle provides a comfortable grip so you can work for a longer duration.
Now how to transfer your design?
Embroidery digitizing services are of great help in this specific area as transferring a pattern to fabric from scratch is a complex process. Variety of methods are available for transferring the design. One such method is tracing the design from the back but the best is getting it scanned first and then transferring onto fabric using a embroidery digitizing service.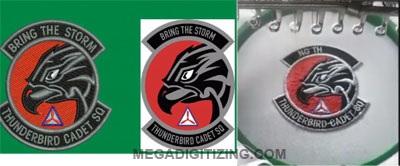 STITCHES:
You can also read an article related to stitches on our blog. There you can study the types of stitches used in embroidery and how to do it. You can start off with whatever seems easy and comfortable to you.
FONTS:
You can try out different types of fonts. There is a wide range of inbuilt fonts present but although more challenging, try to use third-party fonts that are appealing and unique. This attracts the viewer as they're used to normal fonts.
How to trouble-shoot errors:
There are several bugs and hurdles that may come across when using a machine embroidery. Loose thread stitching or sometimes the needles break. Don't give up and keep trying until you get the hang of it and reach perfection.
Keep the fabric clean:
 Maintain cleanliness of the fabric to give it a more professional and neater look. Your design maybe glamorous but if the fabric is ruined in the process, it won't be worth it.
Finishing of the design:
In order to make your embroidery design presentable, make sure to provide some kind of finishing to it. This step is often overlooked by most. You can either hand-sew or have overlock the design to get the finished look. Using the embroidery machine, also end the design by securing the ends of threads so that they don't loosen up.
Conclusion:
In short you need to have basic knowledge about three main things:
A thorough understanding of materials and equipment that you will handle. This includes the working of your embroidery automation as well as threads and stitches as well as the uses of bobbin. What kind of fabric is required for your purpose keeping your design in mind. So overall you should know how each of these things will affect your design.
The person handling the digitizing should have proficient technical knowledge about both embroidery and digitizing.
A Firm grasp over the software you are using. This area requires most expertise by the embroidery digitizer concerning how to create or alter images. Export files and convert image formats etc.
With these embroidery tips and tricks, you'll be able to easily embroider and stitch in no time. Just remember to invest in the right tools, fabrics and threads. Although it is not as easy as it might seem. But the key is to have lots of patience and keep practicing. Remember in the end, with every project comes better experience. You can also use our services to do the deed for you. Make sure to check out our offers for embroidery digitizing in USA. We provide the best results with quickest turn around time. We guarantee customer satisfaction and ensure quality product in the cheapest rates. So contact us today to see what we can do for you!
CLICK HERE TO REGISTER WITH US