Special Promotion for Sublimated Patches & Badges
Have your 25 Sublimated patches Just in  $85
Have your 50 Sublimated patches  Just in  $100
Have your Sublimated 100 patches  Just in $120
Have your Sublimated 200 patches Just in $220
Have your Sublimated 300 patches Just in $290
Have your Sublimated 400 patches Just in $335
Have your Sublimated 500 patches Just in $390
  SEND US YOUR ARTWORK : [email protected]
All kinds of charges are included in this package
Shipping Cost
Pre-production sample, after placing an order
 Set up cost
Price Beat Guarantee

Special discounts on large quantities

MOQ 25 Pieces

Normal Delivery in 5-8 Days - Rush Service Available


Printing Patches Customized to Your Needs
Printed patches using dye sublimation method is a great option if you need smooth sew on badges or cloth patches. Screen printed patches are slightly different than sublimated ones. Screen printed patches are good if a logo has one or two colors because we make a silk screen frame for each color when we produce them. If a logo has four or more colors, screen printed patches are not an ideal solution. The setup cost is high if you need screen printed patches in low quantity. There are two common ways to go for which are embroidery and screen printing. Both of which are different in their own ways of application benefits and uses. Embroidered patches or custom embroidered patches can take the form of sew on badges, iron on badges, emblems, large iron on patches, and custom Velcro patches. Anyone can use sew on badges on caps, shirts, jackets, bags, backpacks, polo shirts, golf shirts, and so on. From custom military Velcro patches to girl scout patches, firefighter patches and more, the use of screen printed patches is as diverse as can be. We make large iron on patches on leather material for motorcycle jackets.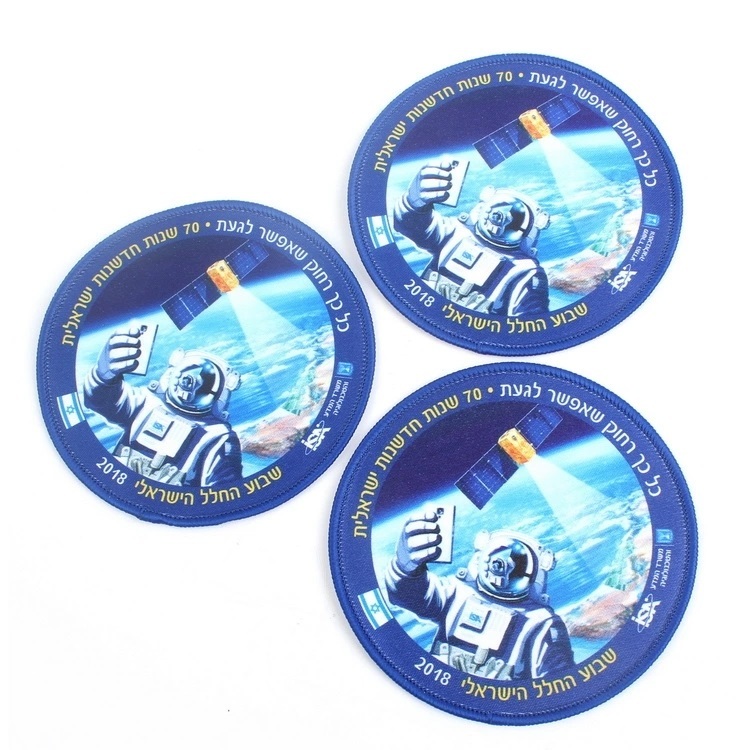 Backing Options
Custom Velcro patches and sew on badges are made with both imprinting methods; printing and embroidery. When it comes to the right patch backing, it always depends solely on the type of material that cloth badges will be affixed to. There are different backing options – iron on, PVC backing, custom Velcro patches, sew on badges – for different materials like cotton material, nylon material, denim material and workout clothing. Size of a patch also matters large iron on patches need to be done as sew on badges. If you need custom badges to hide an old embroidered logo, you need to go with sew on badges. Sew on screen printed patches have no special backing or adhesive; they are simply stitched using a sewing machine. Go with Velcro backing when you need to use the same jacket/shirt for multiple events or occasions. Custom Velcro patches save a lot of money. There are different ways to apply printed patches on the surface of the material. Screen printed patches can either be sewn onto the material or attached to the material with methods like iron-on or the use of adhesives. The use of printed patches is widespread. From law enforcement agencies (uniform patches) to biker associations (large motorcycle patches or large iron on patches) and girls scouts (custom Velcro patches for backpacks), different organizations use patches in different ways. Explore our backing options.
Why Printed Patches?
Still wondering why do you need to use the printing method?
- They are a great way to set your brand apart from the others.
- A cool way to personalize your caps, bags, dresses and other clothing articles.
- To show off your accomplishments on your jacket.
- To show a sense of togetherness in your organization.
- To make a uniform impression.
- To establish a clothing line at a nominal cost.
- They can be done as custom Velcro patches.
- They can be done as large as you need; large iron on patches for bikers' jackets
There are countless reasons why you should use this method. But instead of going on and on, how about you give screen printed patches a try? Contact us today, and we will not only produce your custom printed patches, but we will also work with whatever specifications that you have and will produce for you the printed patches that you have always wanted. More interestingly, we will do it for you at a very affordable price. Send in your logo, emblem, image or artwork today and get a quick price quote. Please mention whether you need screen printed patches or dye sublimated ones.
SEND YOUR ARTWORK TO GET A PRICE QUOTE [email protected]