3D Puff Digitizing has been widely used when it comes to custom hat embroidery digitizing. 3D looks prominent on hat and it stands out even from distance. This Amazing 3D look comes by using foam as a base although there is a difference between flat embroidery digitizing and 3D puff embroidery digitizing. Embroiderer should ask his Digitizer to make file for 3D puff otherwise it will end in a flat look. In order to make foam hidden from sight, it should be matched with the same color as thread. It is important for a neat and clean finish that embroiderer should not use different color of foam otherwise it will shine from beneath and will destroy the clean look.

3D designs for hats has no shortage of demand and it has been increasing since last few years for hats and caps. Finding the right 3D Puff Digitizer means producing best results with low production costs and time.
3D Puff embroidery can give you an edge over your competitors. Therefore, here are the best practices for 3D embroidery to follow.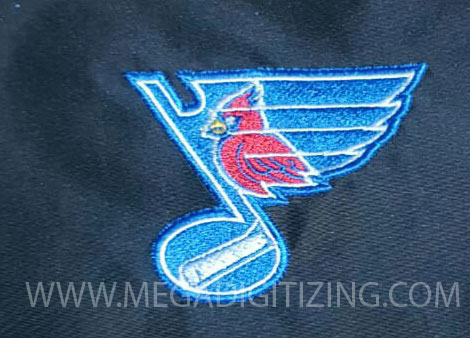 Machine Speed for 3D Puff Designs
It is important that you decide the speed of the machine as it has an impact on the quality of the embroidered designs. Many times you will be required to slow down the speed of the machine as compared to the normal orders. Each machine works differently so adjusting the speed varies from machine to machine. It would be best to try a few test samples before going for full production with different speeds that gives you best result.
Selecting right Fabric for 3D Puff Embroidery
If you use thinner fabric or slippery fabric it will move in the hoop and because of the stitch density . Either it will be torn apart or will produce crappy result. So it's best to use thick and stable fabric since it is more suitable for 3D puff embroidery like on caps.
Avoid using lofty towels, thin or slippery fabrics as their own loft fades to produce 3D effect and thus fails to hold stitch density on it.
Choosing Sharp Needles
Choosing of needles is very important and if your needles are not sharp it may break or create issue when removing the foam afterwards. So make sure you have sharp needles specially for 3D puff designs.
Choice Of Foam:
Thickness of the foam depends on the size of the design. If it's of higher size that means you will need thicker foam for embroider. So more height means thicker foam should be. But there is a problem if you go for crazy thick foam it will create issue so thickness from minimum 2mm to 6mm thickness maximum should be chosen.
Choice of Foam Color
It is important to use the same foam color as the thread and the reason for this is when you pull out the foam it will have some edges on the design with different color which wont look good on hat.
Other materials
You will also need scissors and a tape to hook each side of foam  on the hat so that it stays on place when stitching.
Read more on 3d puff  embroidery guide
Below is the 3D Puff embroidery sample for our client from our embroidery machine.

Mega Digitizing providing 3d puff digitizing services in very affordable price for your business needs. We are currently charging only $15 and top of that you can avail our promotion offer and by doing so you will get $12 for first 5 designs each.
CLICK HERE TO REGISTER WITH US