Custom Embroidered Gifts are given or exchanged for many reasons. It can be a happy occasion, or sad. It can be given to a person as a token of gratitude or appreciation or can be a way to say sorry. Whatever the reason might be nothing can beat the concept of creating your very own personalized gift. Did you know Embroidery digitizing services can be used for creating hundred types of gifts. While you go hunting for innovative items, we have shortlisted some of such ideas which can create everlasting impression to the one who receives it.
Presenting someone with a small gift is easy to convey various of emotions which normally one is not able to express. A gift no matter its size or cost can make anyone's day. It is the best way to store memories and make new. Also an impeccable method to remind someone of yourself.
Funky Jewelry
Make your own fashion statement and create a graceful impression as a remarkable gift. This new concept is trending high these days. Various geometric and floral patterns are available to choose from with a wide range of color combinations to mix and match. You can go for embroidered button earrings to make the wearer stand out and pair up a fashion necklace statement. You can also add an embroidered ring and bracelet to complete the set.
Jacket tops or scarves embroidered
You can have Jacket tops or scarves embroidered any day. This makes a lovely gift idea. Be it a casual or formal occasion, this will be a great addition to the wardrobe. You can upscale or downscale according to the event. One can always accessorize according to the situation and what better way to add embroidered jewelry to it. Digitizing for embroidery provides you a variety of designs to choose from on the internet hence get and present exactly what you have in mind.
Embroidered Valentine Gifts.
Let this year's valentine's day be special and more considerate by sending out customized mugs, jackets, jewelry etc. and celebrate this day in an impressive manner. Use digitizing embroidery services to come up with cool ideas and create a unique and stylish gift for your spouse or loved ones!
Embroidered Gift Card
Okay so what exactly is the point of the gift card you say? Gift cards are actually highly appreciated and can be put to good use. You can go for this when you run out of ideas what to get your dear ones but off course in order to give it a more personalized touch, why not have embroidery digitizing services dress it up a bit to make it look more fun, probably with some meaningful message.
Embroidered Stylish Bags
Regardless of gender, who doesn't like embroidered bags to look glamorous. Men can have their wallets embroidered with their names or initials on it. While women have the whole range of designs, patterns to choose from.
Embroidered Cushion Covers
One of the best uses of digitizing embroidery is to have cushion covers and bed linen embroidered. It complements the whole interior of the house and gives it a rich, modern yet homely touch. It is a fabulous way to present someone on their wedding, birthday or anniversary with a cool message or picture digitized on it. This will last a good impression and they will appreciate it to great lengths.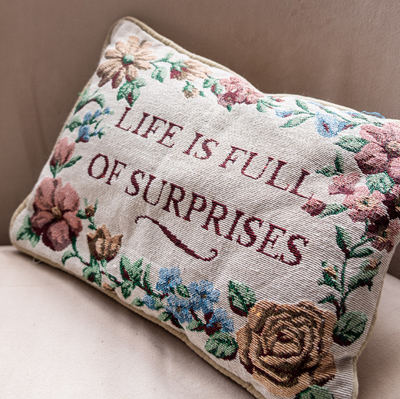 Embroidered Baby Items
This one is an adorable idea to gift on your dear ones on their baby shower or birthday to celebrate a baby's birth. It shows your deepest love and affection for their little ones. Glam it up by personalizing messages. You can go for little rompers with cool messages or blankets, towels anything you think would catch attention. You can also gift this to your own baby, why not make them stand out with your own ideas of outfits.
Embroidered Cap
From everyday use to selective events, Caps are worn and loved by most people. Embroidery digitizing is a game changer for those who prefer wearing caps whether they want to cheer their favorite team or use it as a promotional item. You can personalize the message or monogram on caps anyway you want.
Embroidered Blankets
From babies to adults, everybody loves spending time sleeping or keeping themselves warm in their cozy blanket. You can use Custom Embroidered Gift Ideas to gift your dear ones a gift embroidered blanket to enhance the warmth with emotional feelings attached. It stands out and makes the recipient feel special to receive such a deeply thought out gift. Why not have the digitizing embroidery department discuss exactly what design and message you would like to deliver. You can even use services at Megadigitizing.
Frame Your Embroidery!
What better way to make your gift memorable than presenting your digitized embroidery in a chic frame? It is something that will never wear off its charm. You can go for a message or pattern almost anything you want and even someday see your gift hanging on their walls at home or sitting over a shelf. Now won't that be special or what?

Also, you can always click away for great promotional offers at MegaDigitizing and present your Custom Embroidered Gift Ideas using our embroidery digitizing services. So why wait any further when you have arrived at the right place?
CLICK HERE TO REGISTER WITH US