Embroidery Digitizing Softwares – Free for All Embroiderer
Let's make this quiet simple. It's software which is used to produce a digital stitch file format from a graphic art. Whether you call it Embroidery punching or Embroidery digitizing. This file format is conveniently recognized by sewing machines which embroiders every stitch to bring out your desirable finished product. But you know that already, so what if we tell you there are several free embroidery software all over the Internet that you can either get free or for a nominal price? Sounds enticing? Don't get excited yet because that will only be a fraction of the reality. Finding best software for embroidery is hard due to level of complexity and features involved in each software.
Apparently, Nothing in this world is free of cost. Such free embroidery digitizing softwares come along with restricted functions and abilities. In this age, with the right embroidery digitizing techniques, complex patterns and labour-intensive designs can be made quickly and effectively. Apart from all the features, in order to select the most suitable embroidery software for your specific requirements, you also need to understand how well it is compatible with your machine. Earlier we have posted on Guide to buy embroidery digitizing software. So now that we're familiar with what we're looking for let's go over a detailed review of some of many such free embroidery digitizing softwares. These embroidery software free for trials.
List of Free Embroidery Digitizing Software
1. EMBIRD:
Basic Embird program allows you to alter sizes of the embroidery designs, split designs to allow for stitching large designs in smaller hoops, edit, display, print and convert embroidery designs. It works in two modes: Embird Manager and Embird Editor. It is considered quiet inexpensive but user-friendly. The best thing about is that it's a modular software suite which means you only require to purchase those parts of the software that you require. So this leaves you time and space to broaden your business and later on you can purchase whatever additional plugins as per your needs. The plugins that they offer are Digitizing Tools, Sfumato Stitch, Cross Stitch, Font Engine, Pre-digitized Alphabets and Iconizer plugin. Although its installation process takes quiet some time and becomes a hassle to use without any tutorials.
But another convenience that they have to offer to their customers is free trial version of a particular module. Which means for over a month or so you can use a module for absolutely no cost at all which you'll have to upgrade it later. The free demo version has it's restrictions but it is enough to make you understand whether you'll need it or not.
Digitize your design for Free or in minimal Charge
Checking...
Ouch! There was a server error.
Retry »
Sending message...
Send us Your file for PES Conversion
You will get reply within 5-30 minutes
2. Hatch by Wilcom:
In today's age, hatch is considered one of the best embroidery punching software for both experienced and beginners. It includes all the features and tools required to produce basic or intricate designs. In comparison to Embird it's a bit pricey but you get the option to try it before purchasing without any limitations. They offer a 30 day trial with no credit card requirements. You're not even obliged to register to them. It is a relatively new digitizing software which is fun and fairly easy to use for basics. It's great news for those who are looking to start out can invest their time in this since it is absolutely free.
Apparently their second version is about to be released and he first version is free to download until the second becomes functional. Various tutorials are present to elaborate it's usage.
3. Sophiesew:
It is a relatively new digitizing software which is fun and fairly easy to use for basics among other free embroidery digitizing software out there. It's great news for those who are looking to start out can invest their time in this since it is absolutely free.
Apparently their second version is about to be released and the first version is free to download until the second becomes functional. Various tutorials are present to elaborate it's usage.
4. EOS 3.0
EOS is another software that comes with great features to use with. It is mainly use to design embroidery pattern or for edits. Just like any other  free embroidery digitizing softwares, EOS comes with great user-friendly interface. It enables user to easily know the tools and its about. This software comes with a starting node which enables users to start filling the threads using mouse. There are other tools like ruler, zoom, scrollbar etc which enhance the ability to improve the accuracy. Hence, making the detailed design easy.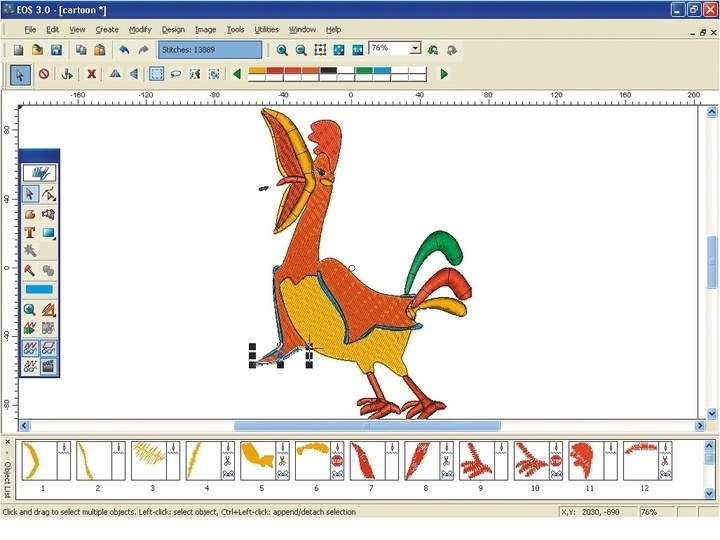 Moreover, This software has the feature to view different format of the embroidery machine files. One can easily load the design, view the design and check the thread stitches inside the design. This gives you more control over the design in term of assessing the quality of the design. Get this embroidery free software to start practice on small designs or small projects.
Once you done with the editing of the design, you can run the design by using the feature Redraw Utility. This options starts stimulate the process of embroidery machine to stitch the design so that the quality of the filled stitches can be checked. After satisfactory result, you can save the files from JPG to PES format for your embroidery machine.
5. My Editor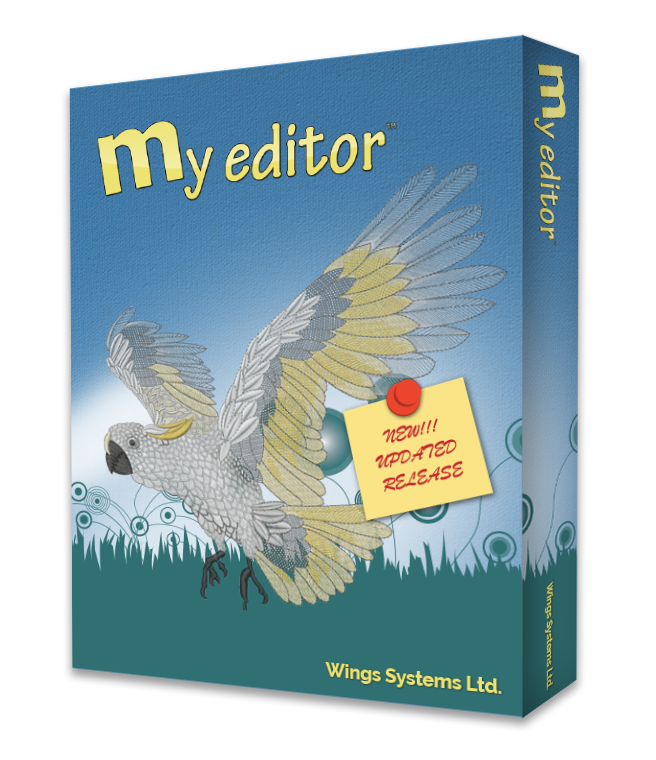 This software can be counted as the best savior for those looking for free embroidery software. As the name indicates it allows simple and easy editing of pre-existing designs. These edited versions can then be saved as file formats such as  converting artwork from JPG to DST, .PCM, .PCS etc.
Another advantage of My editor besides editing is you can also evaluate and adjust settings of the image using their various tools. These images can be handled easily and creative designs can be made without putting in much effort. But unfortunately the downside is you can't really create a design in it from mark zero. Nevertheless its positive attributes outweighs this factor.
6. Bernina Artlink 8
Bernina is a remarkably popular brand for manufacturing the coolest sewing and embroidery machines globally. Therefore it's not a new revelation they also have one of the finest embroidery softwares to offer. Artlink 8 is supposed to be free of cost to users and allows you to edit designs with advanced technology. You can change the color according to your need to blend the design. You can also create mirror image of the design or turn them around at any angle. This software enable us to convert the file.
But no good things ever come for free!. Most digitizing embroidery software are free with limitation. You can only edit designs in the limited version but not create from scratch. Bernina will make you purchase the software to enjoy their high-end program. It is recommended that you purchase a Bernina machine that comes with a free software trial for some days. This will enable you to understand whether you need to invest in buying this software or not.
7. DIME Embroidery Software
The brand DIME has launched a software called the Embroidery Tool shed. What is convenient about tool shed is that it can be downloaded free of cost and has several  options. You can use tools such as applique tool, lace-making tool and many others absolutely free. You may also be able to convert your logos or digital designs. Go through the tool shed to see how many other tools you may be able to use without a penny! This tool shed certainly comes in handy when you're short of your budget.
8. Inkscape with Ink Stitch
Inkscape has a fabulous reputation for being the most sophisticated design program made freely available to users for modification of their designs. Just about anybody can use it from small scale business owners to largely established designers, free of cost. This  free embroidery design software is easy to deal with which is the main reason for its popularity.
Embroidery beginners may also use their add-ons built in the program called Ink Stitch for making their own embroidery designs.
The trump card of Ink Stitch is that because of its functions, a huge number of people use it and also exchange ideas and solutions for their problems. This increases its popularity.
This is the best free digitizing software for embroidery available in market.
But the problem arises with complications created in Inkscape. You have to cover all the steps that can rather be easily managed with a paid program. This makes the whole process harder for the user to master and even longer to finish.
9. Amazing Designs Digitize N Stitch
Amazing Designs Digitize N Stitch provides instructions to complete every procedure. The software is economical making it convenient for even beginners to afford it. The program is equipped with a moderate collection of ready-made designs for newbies to guide what can be created using the software. It is only compatible to run on Windows Computer.
But the drawback is it doesn't permit permanent modification for the designs. You are supposed to run your design, digitize it, finish stitching it but the work won't be saved on the software so you can't go back and review it again.
10. Brother PE-Design
The brand Brother is highly famous world-wide in producing durable sewing machines. They offer a software that is constantly updated and has a prompt customer service. It is recommended to purchase Brother PE Design plus or Brother PE-Design Next! The Latter is the latest form of software which is ultra-modern. 
Brother PE-Design Plus offers a digitizing program called Photostitch. It also provides the ability to create your own design and merge it with ready-made designs.
You can use Photostitch along with Brother PE-Design Plus to make your new designs and mix up with pre-made designs.
The software is built up with a huge library of pre-made graphics and around 35 kinds of lettering fonts for designing. Most embroidered use this free embroidery software for brother machine
But if you advance to brother PE-Design Next, you'll have even more variety of fonts to choose from. This attribute will add spice to your embroidered digitized design. Owing to its up-to-date technology, you may also use multiple needles.
This software program is priced at around $1000 which makes it a high-end brand not afforded by many. It can't be run on MACs though. 
11. Chroma
Ricoma's cloud-based digitizing program is called Chroma. This means you can upload your data directly from the internet. It is not confined to the computer only. It has a solid track record of offering simple operations. This indicates that, unlike with vector design tools, you won't have to go through each phase of the work.
You may also do complex things with this application, such as establish stitch sequences and even add sparkles to your layout!
The affordability may be the only con to this reputable software program. The introductory prices are $599 and may go up to $1999 for more developed features. Hence this software is mostly used by business corporations rather than small home-based freelancers.
12. Tajima
Tajima provides embroidery software which functions along with its machines. Their machines are highly popular, but the software is currently only compatible with only certain machines. Later on, it is expected to become more functional to be used with other machines as well. So you may want to keep checking it back for updates.
Basic editing options in the application include the ability to change the colors, sizes, and text in a stitching design. It can transform word into an embroidered design file and includes various pre-made designs which can be readily altered. You can also use their free trial to check if it's worthwhile investing your bucks into this program!. This digitize for embroidery software is complex to practice upon in start.
13. MySewNet
Pfaff designed this embroidery software program which can be operated using Cloud by the name MySewNet. There are very few restrictions in this software and is also compatible with a variety of sewing machines.
MySewNet is also best digitizing software for embroidery but you can either select a free version but will be limited to functions or you can pay for monthly packages.The cost of subscription per month is around $50 but you may be able to enjoy unlimited features in this program.  This free embroidery software download available on their site for trial.
You can enjoy a variety of decorations in this program such as creating ribbon embroidery for your designs. Stitching parameters such as stitch density, their measurements and color combinations can be modified using this program to create your own cross stitch embroidered designs.
Apparently,in order for you to enjoy unlimited features of this program, you may have to purchase a machine registered by MySewNet. Because some of the functions cannot work without a Pfaff stitching machine.
14 .Embrilliance
Embrilliance will make all your editing dreams come true! It is remarkably versatile and has countless numbers of embroidery fonts for all your logo designing needs. 
The best thing about it is, no matter whichever embroidery machine you may own, Embrilliance is compatible with a variety of files. For the price of $149 you can enjoys all the basics in Embrilliance Eessentials. But ofcourse if you want more advanced features you will have to pay $649. Another advantage of purchasing this software is that you don't have to work hard and will have automated steps done for.  This will make it easier for the beginners and take lesser time to complete their designs. Hence this software is absolutely loved by most!

Don't worry if you have low budget for Embroidery Digitzing.
Above mentioned free embroidery digitizing softwares are basically intended for hobbyist or a small set up. A matter of perspective is they aren't exactly an effective solution to all your problems when it comes to creating a diverse variety of innovative and intricate embroidered designs.
Since the softwares offered for free or minimal cost don't guarantee high professional standard quality of digitized files, do not fret! Let us be your game-changer and do the task for you within your budget.
Mega Digitizing comprises of a team of in-house high-skilled digitizers constantly working with updated technology and high end embroidery softwares to bring out professional flawless results as demanded by customers for a meagre price. Customer satisfaction is our topmost priority. We promptly keep our customers in the loop and re-edit the first design for free until it meets the customer's expectations. So what are you waiting for let's get started. Connect with us to place and receive your order at your earliest !. Check out below outstanding promotion offer for your embroidery digitizing needs.
If you are interested in read more about embroidery click here
CLICK HERE TO REGISTER WITH US